We're gonna find
Nemo!!
NOTE:
For this Tuesday, there is a LOT on my blog for the day. A recipe, a couple of daily memes [Head Or Tails, and Ten on Tuesday], tickets, and a tag that I finished and added!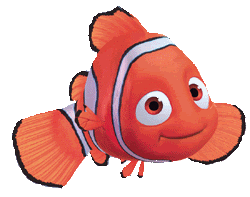 ©Disney
The other day, when we were out and about doing a bunch of little errands, we were on our way into the city to catch up on a few things at the cardiologist office, setting up tests and such. While we were downtown, we stopped for a fish sandwich at McDonalds [I love their fish fillet sandwiches] --on the serving tray were two discount coupons to Disney on Ice that was coming from Houston, where it's playing now, to our town.
Just on a whim, knowing that both of us enjoyed the movie, Finding Nemo, I said "We should get ourselves some tickets, and go." Bud nodded and said in reply "I know you'd enjoy it, so let's."
Allllllll-righty then. After our short lunch break, we drove the few miles to the BankCenter's Auditorium and their Box Office...got the tickets. I can't wait. Y'all know I'm a little kid in a grown-up body!! I really don't think we'll go wrong on this. We both love Disney films, and I love ice skating professionals. Can't miss!!!
<><><>
Join Here
This week Skittles has -"November 13: HEADS - Road"
~By Robert Frost
THE ROAD NOT TAKEN
Two roads diverged in a yellow wood,
And sorry I could not travel both
And be one traveler, long I stood
And looked down one as far as I could
To where it bent in the undergrowth;
Then took the other, as just as fair,
And having perhaps the better claim,
Because it was grassy and wanted wear;
Though as for that the passing there
Had worn them really about the same,
And both that morning equally lay
In leaves no step had trodden black.
Oh, I kept the first for another day!
Yet knowing how way leads on to way,
I doubted if I should ever come back.
I shall be telling this with a sigh
Somewhere ages and ages hence:
Two roads diverged in a wood, and I-
I took the one less traveled by,
And that has made all the difference.

- - -

Q: What's the difference between a dead skunk in the road and a dead Democrat in the road?
A: Vultures will eat the skunk.

- - -
And Road Signs Found Along Texas roadway/byways/highways
[most are a hoot...must be enlarged to get full effect]


<><><>
Ten on Tuesday is this for the week: 10 Songs That Bring Back Memories (and why)
I love music! Period!! I can be heard humming a song that's in my head many-a-times! My favorite songs are way too numerous. It's gonna be difficult just limiting myself to ten. The ones below probably 'ages me' and a lot probably haven't even heard of them. But as I go through my mind right now trying to name some that are quite personal preferences, remember that I like ALL kinds of music and songs.
1] Welcome to My World
(this is
our
song! It was played at our wedding party)
2] Then you Can Tell Me Goodbye
Kiss me each morning for a million years
Hold me each evening by your side
Tell me you'll love me for a million years
Then if it don't work out
Then if it don't work out
Then you can tell me goodbye

Sweeten my coffee with a morning kiss
Soften my dreams with your sighs
Tell me you'll love me for a million years
Then if it don't work out
Then if it don't work out
Then you can tell me goodbye

If you must go, oh no, I won't grieve
If you wait a lifetime before you leave

Then if you must go
Mmm, I won't tell you no
Just so that we can say we tried
Tell me you'll love me for a million years
Then if it don't work out
Then if it don't work out
Then you can tell me goodbye.
---this song was actually on the radio when we were on our way to the airport for our honeymoon trip!! I can still sing it word for word even today.
3] Amazing Grace

For many reasons. I personally just love it for what if means to me! Also, it was one of my mother's favorites! It's personal.
4] You Are My Sunshine
I used to sing this all the time to our daughter when an infant. Now-a-days is just brings back a great deal of good memories of her youth!!
5] Ave Maria
When Luciana Pavarotti sang this [I have his recording] ---I melted! I've known and heard this song sang many times by church choirs and over the radio and in movies and have been awed by it for years, but with Pavarotti's rendition .... wow!!! Each and every time I hear this, I must stop and look to the heavens.
6] Believe

It's seasonal. From the movie Polar Express. Josh Groban. I DO believe, I do!!! For me it's become a new traditional favorite around the holidays.
7] Hero - Mariah Carey
Having to do with military, our son, the Marine Corps...many reasons. I love it!!
8] Theme from the original (1st) Pirates of the Caribbean
Why? It just has great rhythm, and is in a way, very classical with the crescendos, the lulls, the excitement of adventure all rolled into one.
9] Stardust
It just is...I love it.
..."the melody of love's refrain"
10A] All Songs sung by the Righteous Brothers ---

Ebb Tide, You've Lost that Loving Feeling, Unchained Melody, Little Latin Lupe Lu, American Rock 'n' Roll, Soul and Inspiration.....you name it!!
10B] When Cats Take Over the World
This one is comical...yes, like I said, I like all music. This one just makes me laugh. It helps to be a cat lover!!! And Jamie Anderson, the singer ---she's Irish!!!
Here's a link to the MP3 of
When Cats Take Over the World!
.....must I stop at just ten songs?
<><><>
I don't often fix this as a side dish, and I don't know why...it's easy and full of healthy fiber! I really just never think of it often enough. But, last night after I had gone to the store and purchased one for dinner, I made it. It actually is a 'favorite' veggie for hubby...so he was pleased!!
WINTER SQUASH RECIPE
* 1 Acorn Squash, halved
* 1/4 cup [or less --don't overdo] of butter
* 2 tablespoons maple syrup
* 1/4 cup of brown sugar
* Salt & pepper [optional...I don't use either, but hubby likes the extra seasoning]
PREP WORK
Pre heat oven to 375 - 400 degrees F.
Discard the seeds out of each half, cleaning with a spoon.
Add the butter, maple syrup, and brown sugar, salt and pepper into the hollow of each 'acorn' half.
Place upright on a greased cookie sheet and roast for about 1 hour or until tender when flesh is poked with a fork.
This is a
delicious
,
quick
and
easy
side dish that is great anytime of the year. And even with the butter--the fiber in the squash outweighs the fat to make it a heart-healthy dish. [I guess you could use margarine or LESS of the butter, but to me using tasteless, artificial margarine... the additives aren't good for you either, so I opt for the real, creamy butter just put less in my half]
Serve hot! Each half is placed into an individual bowl, served as is right out of the oven!! Did I say it's easy?!!!
<><><>
And lastly today,
Siani
Tagged me
With the Infamous Eight Random Things.
So, here goes eight more iddy biddy items about me you didn't know---
One
- I can't spit! [I've tried and tried, but it ends up more drool than a spit ball!]
Two
- I'm pretty good with mathematics [algebra, simple math, etc. etc.], except when it comes to geometry! The angles and degrees confuse me to no end. You should see me out in the darkened skies looking for 30 degrees north ---searching for a planet or a nebulae. Too funny. Hubby always has to come to the rescue.
Three
- My attitude toward dieting is nil! I don't believe in the 'gung-ho' diets. Losing weight is simple if I want to...just eat LESS of everything! And drink 16 oz. of water before a meal. I can lose 5 pounds in a couple of days this way, easily. I guess if I want to lose more....I would stick with the regime of eating LESS and everything my heart desires...just smaller servings, for a long period of time!! [I did weigh 170 pounds one time, now I'm at 145 and holding....] But, I like myself the way I am....it's more or less "Take me as I am, or not at all" attitude for me.
Four
- I'm a stick-in-the-mud when it comes to all the new fangled items the consumer is faced with these days. I have a bad attitude about buying 'big items' on a whim. I can only feel that if I buy something that is the 'in thing' this week, it will be obsolete next week!! I would rather spend the extra money on entertainment that is live, or something that will create a memory!!
Five
- Someone told me that books[even text books for school] are obsolete because of the internet!! Well, p-shaw!! They're considered a treasure in our home...I love to sit and read a book.
Six
- Most times, I crave things 'in season'. Like apples in Autumn. Rice Krispie Treats for Christmas [hey, it's seasonal for me]. Pumpkin Pie in November. Bing Cherries in the July. [altho, ask hubby if this is true and he'd say 'no'! ---'cause he'd bring up the fact that he had to drive all over tarnation in November to find me watermelon (that was in the '60s --when produce wasn't found year 'round, on "in season") ---I was pregnant, and needed a fix...what can I say?] And to this day Irene [our daughter in my 'craving' womb at the time] HATES watermelon!! And yes, if you're curious, he did find some...believe it or not at a 24 hour convenience store!!! [oops I failed to mention that it was around 12:30 a.m. that I wanted watermelon!! Oh please?----Don't get him started on the subject, we'll be here all day listening to him carry on and on about me and my watermelon!]
Seven
- I've always had a secret desire to see a play on Broadway!
Eight
- I, unlike others, have NO lucky number! At one time I was certain my lucky number was five...but then, maybe not. Seems '5' isn't worth squat on the lotto tickets!!! Who'da known? Sounds like a lucky number to me....doesn't it you?
I don't do tagging myself, but if you wish to list eight things about you we don't know, I'd be pleased to read your list!!