It's been a while since last I blogged. The term is busy. Most days it's been filled with wonderful weather that I just do not want to be indoors. Altho, after our outings, I tend to sit down in the sun streaked dining room, at the dining room table, and color while winding down from our birding adventures. [one shown I tried to make it like the old Dutch '
delft
' color shades] Today, clear skies tell me we're going to go to a birding hot spot [with reported 'excellent' birding opportunities on American Birding Association Texas' site] up north of Corpus about an hour from home. We plan to spend the entire morning there, walking along the river banks and the park. It will be a new area to explore. And the birds seen the last week or two include a lot of 'new' species I haven't had the chance to photograph. Wish me luck. A couple of days since I blogged, Bud and I have been trimming bushes/trees/plants in the yard!!
There have been several articles online that I have read as I wait for Bud to get up and get ready to 'face the day'. Some very interesting ones at that.
One:
about the climate change
. Now, I tend to disbelieve a lot of the hype about the actions of us humans creating the extremes, and this piece of work kinda explains just what I have thought/felt about it all. The very last paragraph, quoted by scientists who have studied the effects of the change....all summed up to what I've been thinking all along!
The Earth naturally cycles between cool glacial periods and warmer interglacial periods because of variations in its orbit around the sun. We currently are in an interglacial period, called the Holocene epoch, which began nearly 12,000 years ago.
For some thought... the highrise buildings within large cities do cause extreme heat to rise and create the extreme temps. It is the glass windows on the mufti-storied buildings around the world that reflect the sunlight and in turn the heat rays go back into the atmosphere...think: Sunlight through a magnifying glass...what happens?. With, the natural climate change of earth revolving around the sun 'as the world turns'...this is probably not helping, but it's NOT the main reason. In other words, tho human-created in only PART, this 'heating up' is a natural occurrence, we are just living/witnessing the time of the interglacial period.
Two:
Remember back in 'my day' learning meant to go to the school library or if your family was lucky enough to have them at home, we'd use encyclopedias? Like Britanica or other complete sets? With the internet, the learning processes now take us to Wikipedia....which is 15 years old this year!! The fun reading is a question asked "What does Wikipedia Mean to You?". So many have responded....and so many reflect our very own thoughts.
Read some here.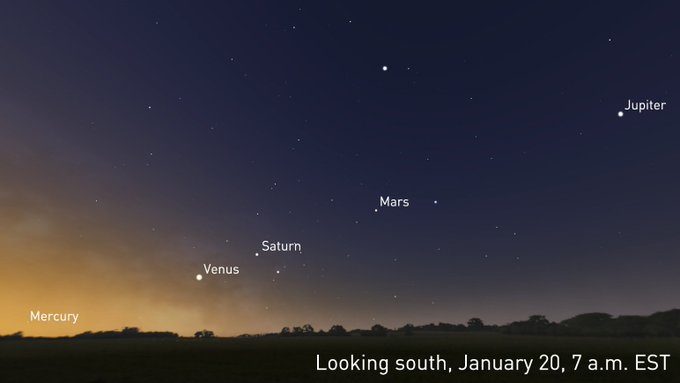 Three:
So I won't get carried away,
the planets are lined up in the dawn sky this month!
I woke up at dark-o-thirty on purpose this morning And as I stated above, in hopes of having a clear sky... It was perfect. So I traipsed outdoors in the dark just now and the planets are lined up east to west in the pre-dawn hour! Amazing!! [note: this is not my photo! No copyright infringement intended]
image courtesy of Google Image search
Four:
Latest news about my favorite TV program, NCIS....Tony [
Michael Weatherly
] is not going to return next season!! After 13 years as Special Agent Tony DiNozzo, he chose to leave us. How will they write his character out, y'wonder? My mind is racing. lol A sad day in bedrock, tho.
Five:
Some photo shares for memes this latter part of the week....fences, critters and
photo hunt [cat]
.
My pretty kitti....tahoe, while sleeping. But pay attention to the LAST photo. She, was becoming a bit disturbed at my interfering with her naptime, and tried to flip me off!!!!