Sunrise on Whitecap Beach - Padre Island - Texas
Please note....I've been extremely busy helping Bud with the patio work. Haven't been online much except for just before he wakes up. At sunrise, we've been outdoors from hour 1 'til it's time to prepare dinner and shower up. I'll try and get to visiting with y'all tomorrow [Wednesday morning], as I'm publishing this on Tuesday afternoon. See ya!!
CONNECTING TO: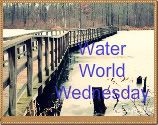 - - -
HODGEPODGE
1. William Shakespeare's birthday is celebrated on April 23rd...when did you last read Shakespeare? What's your favorite Shakespeare play?
I am definitely a Shakespeare reader. I'm always going to his works to quote him around the house [I have the complete works of Shakespeare in our home library] Sometimes I go online. My favorite play?---it'd have to be Julius Caesar. Has been since High School!!! That's when I first found a 'love' of Shakespeare and it continues today. Second favorite, actually close to a 'toss up' ---Hamlet!!! Speaking of Shakespeare, I just watched the DVD of Anonymous...VERY interesting. The last novel I recently read 'about Shakespeare' was: "
The Secret Confessions of Anne Shakespeare
" --which I highly recommend if you're into his life; be it real or fiction. [my personal review
here
]
2. What food(s) would you recommend a foreign visitor try when they visit your home country?
Of course, it'd be "All American" Cuisine - - Either a cheeseburger or a ballpark hot dog. Why am I drooling right now?
3. What's a lie you often tell yourself?
Huh? Lie to myself? How can I do that, when I would know the truth...that doesn't make any sense at all to me.
4. What's something you're good at that might surprise us? Remember this is a family friendly blog!
I have this talent...talent of spreading my toes and picking up things with them off the floor. Scary, huh?
5. Who is your favorite animal character from a book?
Easy 'nough for me to answer: Rudyard Kipling's Riki-Tiki-Tavi. [a mongoose that kills snakes...I hate snakes. So, "Riki" is a hero in my life.] This story could be quite a frightful tale for younger children, but still a beautiful story in its own right about the love, devotion, and skills of protecting a small boy from a cobra! I LOVE Riki Tiki Tavi. The book, the animated movie...In fact, Rudyard Kipling is a fantastic author. The Jungle Books are super for young and old alike. [the image is actually one that I borrowed from wikipedia - I even saw this book in the children's section of the half price books store the other day, and now I wish I would have picked it up and bought it. The art work is incredible!!
6. April showers bring May flowers...do you have a green thumb?
I guess...at least outdoors. I love gardening outdoors.
7. Speaking of rainy days...which one of the following activities would you most want to spend time doing on a rainy day-
[in order or what I'd do...first to last]
Seven: sort photos and create albums
Three: bake cookies
One: read a good book
Two: hold an all-day movie marathon
Five: organize closets, cupboards, or bookshelves
Four: try a new recipe
Six: fix something that needs fixing
8. Insert your own random thought here.
day 1
day 2 [and all other days in chronological order - aka EVERY day]
CONNECTING TO: