...an osprey with its 'catch of the day'...
Indian Point Park
Portland, Texas
March 17, 2012
[take note of his wet underbelly...just flew in from the tidal basin after snatching up his prey]
Yesterday [early Friday morning], while we were driving through heavy fog and going to the islands, along the freeway, entering to cross over the causeway, Bud and I saw TWO ospreys on the power poles for the street lights, high above. I couldn't pull over because the fog was just too thick for safety. We walked the Whitecap Beach for about an hour then, hopped back in the car to head for another 'birding' park in town. While heading on to the beach, I looked back to Corpus and saw this phenomenal huge vast fog bank blanketing the city skyline. At the beach, the sun was shinning. I had no opportunity to aim the camera to the fog bank 'cause this particular beach is 'filled' with hotels...the view toward the city is quite obscured. You had to be there...kinda like a cult movie being that the horizon was dark and filled with a foggy mist. Traveling again on the causeway, back into town, we saw another on a power LINE this time. Again, not able to pull off to the shoulder...this time, heavy traffic. That makes Gilligan [he's always there when we cross the water way...99% of the time...hence his name...Gilligan as in Gilligan's Isle]. Seeing two others then, we dubbed one Ginger and the other since he was alone and by himself, we dubbed him "The Professor". If we see more than Gilligan next time, there just has to be a Skipper, Mary Ann and the Millionaire and his wife!! [kidding] Ospreys are almost just as regal looking as a bald eagle in my estimation.
CONNECTING TO: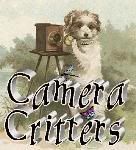 - - -
WEEKEND FUNNIES
[fish tales]
A couple goes on vacation to a fishing resort in northern Minnesota. The husband likes to fish at the crack of dawn. The wife likes to read. One morning the husband returns after several hours of fishing and decides to take a short nap. Although she isn't familiar with the lake, the wife decides to take the boat. She motors out a short distance, anchors, and continues to read her book. Along comes the game warden in his boat. He pulls up alongside her and says,"Good morning, Ma'am, what are you doing?"
"Reading my book," she replies, thinking isn't that obvious?
"You're in a restricted fishing area," he informs her.
"But officer, I'm not fishing. Can't you see that?"
"Yes, but you have all the equipment. I'll have to take you in and write you up."
"If you do that, I'll have to charge you with rape," says the woman.
"But I haven't even touched you," says the game warden.
"That's true, but you do have all the equipment."
MORAL: Never argue with a woman who reads.
*
A woman goes into a shop to buy a rod and reel as a gift.
She doesn't know which one to get so she just grabs one and goes over to the counter where there's a shop assistant wearing dark shades. "Excuse me sir" she says "can you tell me anything about this rod and reel?"
The assistant replies "Ma'am I'm blind but if you drop it on the counter I can tell you everything you need to know about it from the sound it makes."
She didn't believe him, but dropped it on the counter anyway.
He said, "That's a 6' graphite rod with a Zebco 202 reel and 10 lb. test line...It's a good all around rod and reel and it's only $20.00".
The lady said, "It's amazing that you can tell all that just by the sound of it dropping on the counter. I think it's what I'm looking for so I'll take it."
He walks behind the counter to the register, and in the meantime the woman breaks wind big-time. At first she is embarrassed but then realizes that there is no way he could tell it was her...being blind he wouldn't know that she was the only person around.
The assistant rings up the sale and says, "That will be $25.50."
She says, "But didn't you say it was $20.00?"
"Yes ma'am, the rod and reel is $20.00, but the duck call is $3.00, and the catfish stink bait is $2.50."
*
What do you call a fish with no eye?
FSH, of course!