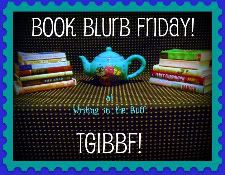 Join by clicking on the meme tag
BOOK BLURB
This is the 'book cover'. Upon viewing this, the challenge for this meme is to write a blurb [the inside cover flap] that will entice the reader to drop down their VISA on the counter and purchase the book and enjoying it. It's to be either fiction or non-fiction.
Here goes---
book title:
*:*:JOSEPHINE'S DOOR:*:*:
1959. A black car slowly pulled to the curb. Outside, a blizzard played havoc around the city. Inside, alone. The roaring fire warmed the room. Background music from the 40s played. A fireplace log rolled and crackled. Josephine placed her ivory hands on the chair, briefly glancing at her golden wedding band hesitating for only a second as a picture of her late husband came to memory. Upright, she stirred the blazing logs. The doorbell chimed. She glanced through the lead glass panel to see a dark silhouette of a tall man; shivering. Josie turned the knob. Staggering momentarily, she knew right away who he was. It was instant recognition. During WWII, in 1945, men in uniform knocked on her door on such a night like this. Her husband was shot down over the English Channel; his body was never recovered. This stormy night became a haven of wayward love, Jeremy returned----


[149 words - Word Counter Tool]
Would you purchase my book?
New, published May 2011
US -$24.95
Canada -$34.95
This week only 10% discount for Bloggers!
[insert wink here]

In its entirety, the text is copyrighted by law.
see copyright on sidebar
© 2011
- - -<><><>- - -
I didn't feel like cooking dinner. Nor did I have the gumption to even take anything out of the 'fridge to defrost, so I did an unthinkable...I bought a frozen pepperoni pizza from the grocer's freezer section. To me, that's a thing unheard of. Afterall, I'm perfectly capable of cooking. In other words, I have two good hands, the knowledge and know-how...yet, laziness took over!!! Frozen pizzas?----Lordy have they ever
improved in taste
.
Either that, or I was so lacking ambition ANYthing would have tasted good. LOL But I gotta tellya, I bought a large Pan Pizza by Red Baron. Wow. Truly impressed. I know now that that'll be a pizza choice if ever we feel like it again someday. Actually, in my estimation, this product was
better than restaurant style
pan pizzas. The crust was so crispy and just the right amount of garlic...and the big seller....the extra thick crust was cooked...ALL the WAY through! [restaurants have crust that is too doughy for my taste when it comes to deep dish pizzas].
pizza graphic borrowed from Red Baron site
infringement not intended