I so! dislike Daylight Savings Time!!!! LOLOLOL


On Friday, Bud and I took the entire day off and did nothing! We ended up at the beach. It was a gorgeous day [a couple of photos below within my poetry]. I took my book, [I have TWO more chapters still, to go, to finish the monster of a novel!] and I took my chaise lounge and just enjoyed the time of nothingness. It was a great few hours. Nothing can beat just sitting and enjoying the beauty of the shoreline. Then,...
Bud and I spent the whole day yesterday tearing down the outdoor decorations and packing away all the Halloween decor inside the house. Believe me when I say it was an all day's job! For some reason, whether it's the economy or whatever, there weren't too many trick 'r' treaters the night before. We maybe, if lucky, had only 30 [if that many] guests come calling. We watched a Vincent Price movie...you know, he's the king of macabre. A good fellow to watch on the night of all nights.
And I was so tired afterwards, I just flopped on the bed and slept. Not even reading. Atlas Shrugged, tho I wanted to finish it and move onto another book, [I've so many new ones to read lined up, that this 1100+ page novel by Ayn Rand is getting me back-logged in my reading of others] I didn't get it completed yet!! It's too good to put down and start another book. I MUST finish it before I get into another one...ya, it's THAT good! Today, I tell myself, TODAY I will do nothing but read the last two chapters. I can't wait to see how it all ends. I recommend this book to anyone.
But, in the meantime, since I'm not sleeping and wide awake ---being daylight savings time has ended today, I'm up an hour too early. Dang!! Okay, so in the meantime, I felt poetic this morning with the two beach photos I'm sharing that I took with the cellphone this past Friday. I never, NEVER tire of just sitting and gazing out to the sea---
As I walk along the shore...
The surf hums a melody.
The ripples dance along with me.
Under the sun the tidal pool glistens.
I stop to consume the moment
... just to listen.
Under my feet the sand is shifting.
Beneath my toes the ebb is drifting.
Motion surrounds me. Still,
the minutes go by without me knowing
...as tho time is nil.

In the distance toward the horizon
The stream of sun's light reflects upon the sea
The sky opens; a foyer to an everlasting door
God's dazzling lights...his very own marquee.
...As I walk along the shore
<><><>
Play along with your subconscious; Sunday's Word Association.
Join here.
I say ... and you think ... ?
1.
In love ::
"I'm in love, I'm in love...with a WONDERFUL guy!" [South Pacific]
2.
Be my guest ::
Take it, it's yours!
3.
Number one ::
Numero Uno [Spanish, 'number 1']
4.
Swallowed whole ::
Jonah & the Whale
5.
50 percent ::
Off
6.
Made in ::
China
7.
Supplement ::
Income
8.
Right for ::
an attorney
...
okay, okay, so that's weird. The Miranda Warning states a 'right to'...but attorney is the first thing that came to me.
9.
Endless ::
Summer
10.
Ceramic ::
Tile
<><><>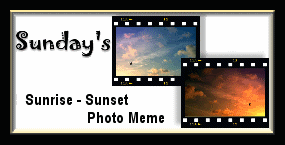 JOIN HERE
Sunrise on October 31st.