Two memes: Links found on my right sidebar if you care to join.

WILD BIRD WEDNESDAY
A few weeks back, Corpus Christi celebrated the annual Buc Days [Buccaneer Days] with the history dating back to Piracy and the area. At the Marina and along Shoreline Drive, the black pirate flags flew!! This past weekend when Bud and I went down and watched the shrimp boats come in to dock and sell their catch of the day to the awaiting buyers, the flags were still swaying in the breeze. I thought the resident town birds in the area with the flag showing would be a good composition. This Blue Heron was situated like a statue aboard one of the shrimp boat's bow!!
_ _ _ * * * _ _ _
WEDNESDAY HODGEPODGE
Joyce has these questions for us today:
1. It's National Bike Week...do you own a bicycle? When did you last ride a bike?
I did own a 10 speed...when we lived in Tucson. Gave it to the neighbors when we relocated to Texas and never bought another. Actually, with the traffic and the erratic drivers in this city, I don't think I'd want to ride a bike!!
2. What's something you learned in school that wasn't part of the curriculum? BOYS!! I learned to really like boys. :::insert giggle:::
3. What's a food you've never tried, but want to try? What's a food you've tried and will never try again? Golly, good question. What food haven't I tried but want to try? You got me stumped on that one. But the second part of the question would be two things...a fish taco. EWWWW! Whoever came up with that idea should have their head examined. Seriously. And okra. It's okay in soup, but just plain okra, fried or otherwise, no thank you.
4. Have you been more demanding on yourself lately or less? Why? Do you think that's a good trend? Personally, I tend to just go with the flow. From one day to the next. No big deal. Either I like myself or I don't. Tomorrow's another day. Tho, this time of year, one thing in particular is having to wear sleeveless blouses and tank tops. I need to tone my upper arms and I'm working on it with 5# hand weights. Starting off with 50 repetitions in three different directions. If it improves the shape of my arm then it's a good trend.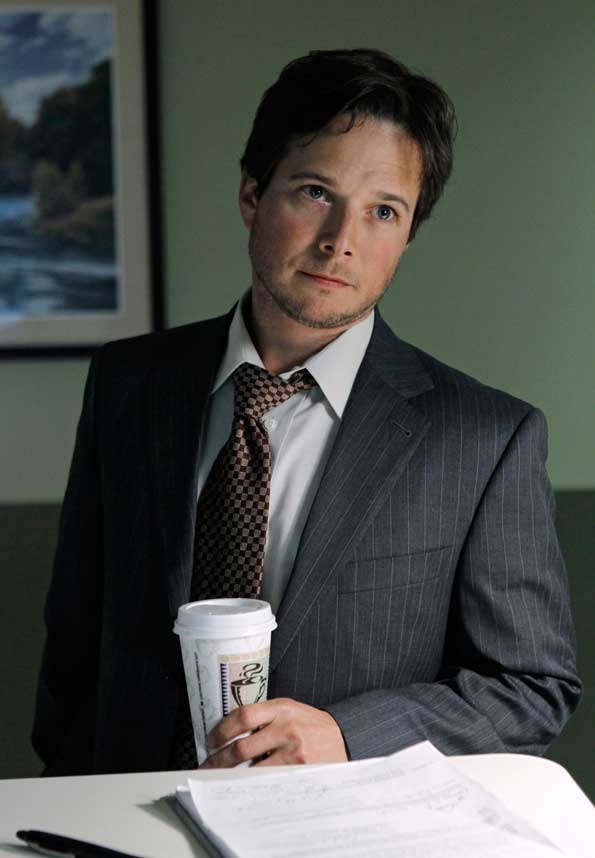 5. Who is your favorite book, movie, or TV show villain?
Oh
great
question Joyce. I love the villain; especially the villain-turn-heroic in the end!!
Book
, it would be Phantom of the Opera. So sad, yet considered a villain; tho, not really.
Movie
, I like "V", a masked vigilante who does good OR evil depending on your point of view. A quote I love from the movie is by "V" ---'People should not be afraid of their governments. Governments should be afraid of their people'. and 'Remember, remember, the Fifth of November, the Gunpowder Treason and Plot. I know of no reason why the Gunpowder Treason should ever be forgot'. [ in history, this was associated with Guy Fawkes in 1605 --
read more
...] and
TV villain
[turned hero] would hafta be Jonathon Cole [photo shown above-aka Special Agent Casey Stratton of the FBI] ---he was part of the phantom 8 on the tv series, NCIS - died a 'hero' saving NCIS agents in a bomb threat. My favorite last line of one episode, before he was blasted away, gotta love this: "
It's not the danger. It's the fun
" as he sent Gibbs away trying to diffuse the bomb threat. He may have come to them lying from the beginning in the premiere, but the character was a good addition to the series, and of everyone involved, it seems safe to say he's likely dead. Unless he found a way to run in time—which didn't seem likely—he didn't survive that bomb. [
read more
...]
ONE MORE...WE NEED A FEMALE VERSION HERE-----Maleficent in Sleeping Beauty would be my choice from way back!!
6. How concerned are you about identity theft? First, my privacy is very guarded. I try to stay off the grid as much as I can for that reason.
7. I saw this last question on Dawn's blog a couple of week's ago and asked if I could share. Everybody hop over and say hi, but first answer this...would you rather have an ordinary home in an extraordinary place or an extraordinary home in an ordinary place? I can't have extraordinary home in an extraordinary place? Bummer. Okay, my dream would be to have a home on 1000s of acres on the Pacific Coast. The house would be built on a cliff overlooking the coast with unobstructed views of the ocean. And the home, I guess would have to be 'ordinary' except for one thing...all glass walls facing to the west!!! That is a must.
8. Insert your own random thought here.
With Memorial Day coming up soon, I thought I'd share this: In 1915, inspired by the poem "In Flanders Fields," Moina Michael replied with her own poem:
We cherish too, the Poppy red
That grows on fields where valor led,
It seems to signal to the skies
That blood of heroes never dies.
She then conceived of an idea to wear red poppies on Memorial day in honor of those who died serving the nation during war. She was the first to wear one, and sold poppies to her friends and co-workers with the money going to benefit servicemen in need. Later a Madam Guerin from France was visiting the United States and learned of this new custom started by Ms.Michael and when she returned to France, made artificial red poppies to raise money for war orphaned children and widowed women. This tradition spread to other countries. In 1921, the Franco-American Children's League sold poppies nationally to benefit war orphans of France and Belgium. The League disbanded a year later and Madam Guerin approached the VFW for help. Shortly before Memorial Day in 1922 the VFW became the first veterans' organization to nationally sell poppies. Two years later their "Buddy" Poppy program was selling artificial poppies made by disabled veterans. In 1948 the US Post Office honored Ms Michael for her role in founding the National Poppy movement by issuing a red 3 cent postage stamp with her likeness on it.
When you celebrate in remembrance, please have a safe holiday!!
[images shared on question #5 are results of a Google Search...no infringement of copyright intended]