Photo of sunflower taken along the Audubon Birding Trail on Padre Island
CONNECTING TO:
_ _ _

MONDAY MORSELS
I haven't composed a Monday Morsels in quite some time. Since the sunflowers are profusely in bloom, all along the prairie sections of coastal highway between here and Port A; it is dappled with yellow here and there, I thought I'd write a little ditty on them...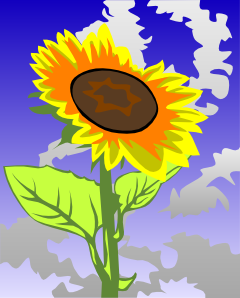 I am a sun worshiper found along the shore
By day, I tend my needs, I follow its path.
Like the religious faith that lies in store,
I douse my golden citron blades;
if you will...a bath.
As the sun fades along the horizon west
and the sky grows a vivid dark indigo
I nap and enfold within myself
...time out to ease my soul.
I stand motionless...I rest.
At the break of day, from beyond the glen
the surf carries a tune across the morning mist
Awake, I stretch my face wide open; being kissed
And, a new dawn, a new day...
I worship the sun once again.
© Sunflower Sun Worshiper
2012
Hootin' Anni
All Rights Reserved
Sunflower graphic used in poem, used with permission
Disclaimer