Within less than an hour's drive from home, there is a quaint, beautiful, seaside village. For most, it would be considered a fishing mecca because of the proximity of the Gulf. But, the locals know that it also has quite a lot of art galleries, and art festivals held throughout the year. One particular area that is so pretty and very pristine and well kept is just off Navigation Blvd. [or is it street? not sure] that ends at several piers and a glorious view of the sea. Park your car, enter this small, converted home...an art gallery. If you go inside - the artists are local. Some oil canvases caress the interior walls...while other works of art are found on glass display tables; including native wood carvings, such as birds, bowls, and abstract. There is also a small gift shop. You can also purchase original art ranging from $60...going up into the $1000s for original, matted and framed oils. Outside the facility, there are several works of bronze sculptures. The views are incredible from all angles...the backdrop of the sculptures can be the open waters of the Gulf of Mexico, or turning around you can view the marina in the background. Either way, you won't be disappointed---
CONNECTING TO: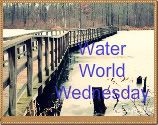 _ _ _
HODGEPODGE
[
wednesday meme - hostess link below
]
1. What is a pet peeve you have when vacationing?
Being retired, I'm on a permanent vacation. No pet peeves much at all, except maybe... driving in a large city metropolis, and contending with the traffic that knows where they're going, and I don't!!!
2. Would you describe yourself as a light packer or do you need everything in your closet plus the kitchen sink? If it were up to me, I'd pack MINIMAL!! I'm happy with my cellphone, camera, and credit card only. That's all I need; not even a purse.
3. What's the best lesson a child ever taught you? Laugh, giggle, and enjoy the day. To be forever young.
4. Share one piece of advice you'd give a recent graduate as they attempt to enter the job market? Above all, remind them before they walk out of the house that...these days, it's not just graduates that are out there in the job market; employees being laid off all over---ones with years of experience. 1] make sure your resumé is up to date 2] be yourself at an interview 3] be prepared to be turned down...there are better chances out there!!

5. What's your favorite lemon something? I love pie...so, it'd be lemon meringue pie. Mine! Homemade, from scratch beginning with my crust; nothing store-bought. And if it's too hot to bake a pie....fresh squeezed lemonade in a frosted glass with gobs of ice cubes would really hit the spot.

6. Flat sandal, wedge, heel...your favorite footwear? Now-a-days the high heeled shoes remind me of 'street walker garb'...cheap, slutty looking, no matter the cost either. And besides, personally, I go no where that requires heels. My favorite would be sandals!!! But, I'd much prefer going barefoot on the beach.
7. What do you like best about a beach holiday? If you're not a beach lover (GASP!!) what do you dislike the least? I live 10 minutes from the beaches....or 5 minutes from downtown that has a waterfront/marina. What do I like best? Living so near!!! What do I like least? The summer hurricane season.

8. Insert your own random thought here. #7 reminds me, I must get my email set up for hurricane alerts once again. Hurricane season begins in June...but, storms have occurred in May recently. And I will need to begin stocking up the pantry with all the essentials if we're in one that requires no evacuations...bottled water, candles, canned food, batteries, gas in the BBQ'r propane tank, paper products, cat food and make sure the Rx refills are enough to get me through to November...etc. etc.
CONNECTING TO: