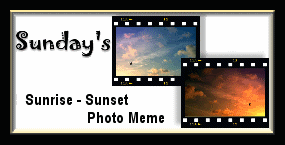 JOIN HERE
show the beauty of sunrise or sunset
I always love walking early in the morning when the sounds and noise of the city are at its minimum. It's quiet and peaceful. And what better way to start the day than seeing something like this while walking? Taken from my cellphone, in our neighborhood over the roof-tops.
~...end Sunrise/Sunset
[
comment HERE
to skip all other Sunday stuff]
<><><>
Play along with your subconscious; Sunday's Word Association.
Join here.
I say ... and you think ... ?
1. Coverage :: News media
2. Cynical :: callous
3. Gust :: of wind
4. Improvised :: makeshift
5. V :: Roman Numeral five
[hey, I told you I'm ancient!]
6. Guests :: patrons [hotel, restaurant]
7. Brutal :: mean, harsh
8. Grant :: Hugh
9. Pull :: push
10. Streaming :: emitting
~...end of Mutterings
[
comment HERE
to skip all other Sunday stuff]
<><><>
Bidding on Ebay sometimes is frightening. How often have I went in to do a search for some item that is one 'one of a kind'...or perhaps and item that 'is hot'; a collectible? For instance, months ago when The New Yorker came out with the controversial cover of Michelle and Barack dressed in garb such as to give the artistic influence of terrorists or Arabs? Remember that one?
Well, throughout this hick town, not too many establishments carry something quite as 'intellectual' as The New Yorker. And we only have one really 'good' bookstore. Other than Walden's Books [Walden's has since closed its doors for good] found in the main mall, we have Barnes and Noble. Both were sold out within hours of putting the magazine on the shelf.
Well, when it comes to 'collecting' collectibles such as this [magazines and newspapers store flat, lol] I tend to want what is the 'hot item of the day'. Which back then, this particular magazine was. I even called my sister in Colorado, and our son in Houston [our daughter lives in more of a 'hick town' than we do if you can believe that, so I figured that was a fruitless effort]. To no avail. All over Houston, sold out. As with Colorado...she went to Grand Junction and around her city also...nothing, sold out.
My next step was Ebay. Tho some where 'reasonably' priced with bidding, I was always beat out at the last minute...even when I set a 'maximum' bid. After a week or two of trying, I just gave up on the whole idea.
- - -
Then, watching CNN's Wolf Blitzer in the afternoon here, the next hot item is the November 8th's issue of Time Magazine. A Commerative Issue. Rumors on that program said throughout the north east and along the eastern seaboard, the magazine was being sold out within minutes of putting them out. He, Wolf, said to us viewers "It would probably be a better bet to buy online." Well, Time won't just let any one person order any one magazine, you need to buy the subscription. Nope, not me...my mail box is already filled with subscription papers and hubby's government magazine issues daily. For two days now, if we were out and about as usual, we stopped by the bookstores...they haven't got their shipment in yet was the story we'd hear. Okay, so then, I thought "Try Ebay". Ummmmm, ya right! When the bid starts at $24 something?! Sure it's a collector's item, I can see the point...but have you bid against some of these lunatics? ....[kidding on the lunatics...just me being sarcastic].... Anyway, I've learned to shy away from the bidders ever since the older issue of The New Yorker went for 'sky high' prices. I'd like to have the Time issue for November 8th tho.
After being scared looking through Ebay, I decided to try one more time with Barnes and Noble since it's the closest to our home.
One ringie dingie.
Two ringie dingies.
Connection made.
"Thank you for calling Barnes and Noble....yada, yada, yada."
Music.
More music.
"This is Chris, may I help you?"
My mind is saying "No, we sold out of them already"....but I ask anyway.
"Do you have the November 8th issue of Time Magazine?"
"We just put them out, let me check, I'm real close to the magazines."
More music.
Chris comes back online.
"It's the Commerative Issue, yes we have just a few left. But, we do have them."
My heart leaped in high speed.
I slide down the phone guard and walk into the living room where Bud was.
"I'm going to B&N...wanna come with?"
"Nah"
"Okay I'll be right back".
I drive down the freeway, get to the parking lot...realize I still have my shorts on and beach shoes...oh well. Walk in....the line at the checkout stand was a block long...the patrons each have 3 or 4 issues in there hot little hands [my first thought was potential Ebay sellers]....oh no! They're gonna be gone! I felt it in my bones.
I spied a few. Grabbed only one. I'm not greedy.
Stood in line for a while, got up there...paid for my collector's issue and left.
But after all that said, I have a question.
Have you ever felt you overbid on something through Ebay? Then, felt a bit like a crazy person in the interim for bidding too high?
<><><>
We'd make a great leading couple, don't you think?
- - -
Since I love movies, and watch them more than anything on television at any given time, I saw this new beta quiz on someone's sidebar the other day and wanted to try it. I thought it'd be fun to have Bud show me just who my 'leading man' would be from his answers to the quiz---I'm 'married to'.......
Your result for The Classic Leading Man Test...
Jimmy Stewart
You are the fun and friendly boy next door, the classic nice guy who still manages to get the girl most of the time. You're every nice girl's dreamboat, open and kind, nutty and charming, even a little mischievous at times, but always a real stand up guy. You're dependable and forthright, and women are drawn to your reliability, even as they're dazzled by your sense of adventure and fun. You try to be tough when you need to be, and will gladly stand up for any damsel in distress, but you'd rather catch a girl with a little bit of flair. Your leading ladies include Jean Arthur and Donna Reed, those sweet girl-next-door types.
[Oh oh...sweet cheeks...you didn't do your choosing for a leading
lady well....well, read on down, you'll see!]

Find out what kind of classic dame you'd make by taking the
Classic Dames Test.
Take The Classic Leading Man Test at HelloQuizzy
- - -
Then, to turn the other cheek so to speak, I took the 'leading lady' quiz to see who Bud's leading lady is:
Your result for The Classic Dames Test...
Barbara Stanwyck
You're a tough dame, a bit of a spitfire, and you can even be a little dangerous, but you do it with such flair that almost all is forgiven (and even when it's not, you're still the most interesting woman in the room). You can be witty and charming, all right, but you have a tough streak that keeps you focused and sometimes deadly. You've had quite a climb to get where you are, but you're a hard worker and you mostly deserve all you get...and then some. You might end up destroying everything around you, but you must admit...you've got style. Your leading men include Henry Fonda, Fred MacMurray, and when you forget yourself, Gary Cooper.
[Ummmm, guess I didn't choose right either...but then again, think about it...with me being the spitfire, there is no room for two of us. So, ya, having a friendly boy next door is just the ticket...no competition that way. rofl!!!]

Find out what kind of classic leading man you'd make by taking the
Classic Leading Man Test.
Take The Classic Dames Test at HelloQuizzy