~A WALK ON THE BEACH
Beachcombing a few days ago.
Bud and I spent a couple hours walking on the beach the other day, before the cold front moved in. It was such a beautiful day. Autumn in the air...a crisp, chilly morning. Still warm enough to be perfect. The sea was calling my name.




While walking I naturally end up looking downwards in the sand looking for the perfect, unbroken sand dollar. This area, south of Bob Hall Pier, just off a backwoods beach access road is where you'd find me this sunny day!!




Above you see an oil rig on the horizon. I stopped and watched a tanker back toward the rigging for a 'filler-up' jobadoo!! It was fascinating. And yet, I wondered just how much that was worth in dollars and cents.




The poor butterfly's wing was crusted with wet sand and he was so desperately trying to break free and fly again. So I had to stop and try to assist. I doubt if he made it much longer. And I found an 'almost' whole sand dollar! [arrowhead sand dollar above - round sand dollar below]


Behind the sea are the sand dunes. Part of the great Texas sand barrier that runs from Galveston to beyond Brownsville. A silent wooden cross reminds me of my weaknesses as the grass rustles in the wind. A scavenger "Mexican eagle -cara something or other- flies above me.



The shell I hold in my hand is a favorite of mine...tho, it's a bit, broken, partially; there's still a lot of beauty in the nature of it. And we were visited by a couple of dudes playing cowboy!---Horseback riding. Pity the horses 'cause the guys forced them into the water, and I know what it's like to ride a spooked horse. It can mean a world of hurt if the horse decides "NO!"



Another shell washing ashore and lodging in the wet sand. And a couple of sandpipers entertained us. What a glorious morning we had!! I'm at peace. Now, I'm home again and plan on crocheting a bit on my holiday santa project...and wishing I could be back outdoors, in the yard and read my book!! Ummmm, too cold today.

<><><>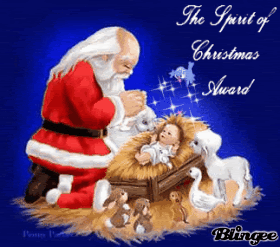 :::singing::: "C is for the Christ child, born upon this day...." A Christmas Award!! How lovely!! Mary @

Mary's Writing Nook

left me a note in my comments to drop by her blog 'cause she had something for me ---and is it ever sweet! Santas you know! I do

love

the guy for what he stands for in the eyes of children!! And I love the spirit of Christmas. I AM a kid at heart. Christmas has always meant a lot to me in so many ways. When I was five, I begged my mom to make a cake and send it to heaven for Christ's birthday...and that mood has stuck within my soul forever. It's a special, joyous occasion to be able to live life for how he's allowed us to live; remembering just who was given to us on the day. Thanks Mary.


<><><>






Hootin' Anni

, your Christmas counterpart is Mrs. Claus

That's right — your unwavering support, hospitality, and comforting touch have landed you the role of Mrs. Claus. You know how to take good cheer and deliver it wherever you go — spreading warmth even on the coldest of wintry days.

Secretly, we know you hold Santa's operation together. Wouldn't surprise us at all if you were the brains behind the whole organization with your powers of planning. And you know how to keep the peace, too, whether easing egos of bickering elves, or keeping flying reindeer well fed and ready for flight. You do what needs to get done — even if you don't always get recognized for it. So keep at it, Mrs. Claus! With your hospitality and good-natured ways, this is your season to shine.


Tickle Test