PHOTO HUNT and CAMERA CRITTERS combined today
April Photo Hunter subjects:
7th ~ Awesome
14th ~ Sturdy
21st ~ Reflect
28th ~ Texture
For "Sturdy" I'm going with the sturdy yet spindly legs of herons. This one was perched on a power pole around Paradise Ponds in Port "A" Texas. [watermark also on bird's back] Hundreds of times I've seen all kinds of the waterfowl standing like this, on one leg....does anyone know the reason behind this gesture? Is there something I missed in Science class/Biology? Or maybe there was a research grant done by some group? Perhaps a whole program on PBS Earth series telling us 'why'? Inquiring minds wanna know! I bet it's just to
rest
the
other
leg?!!! But seriously, have you ever seen a heron fly in and land with such grace on those 'sturdy' skinny legs of theirs? If it were ME, I'd be tumbling head over heels with them as legs...they MUST be sturdy.
CONNECTING TO: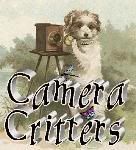 - - -
WEEKEND FUNNIES
[eclectic style this week]
CHICKEN SOUP for the SOUL book reject: Kitchen Sopu for the Dyslexic Soul
*
GOGOEL - Search engine for dyslexics.
*
Now, I'm gonna teach you a bit of Chin-ese. Please, no offense intended here...just copied from
Our Funny List.
Ready?
Lin Ching [In English this translates into: unauthorized execution]
Chin Tu Fat [In English this translates into: in need of a facelift]
Ai No Pei [In English this translates into: It was free!]
Hung Chow [In English this translates into: in need of an enema]
after that above, we need to clarify a bit----
Hu Flung Dung [In English this translates into: bathroom stinks!]
*
QUESTION FOR THE DAY: How do I set a laser printer to stun?