Wait for it....
Wait for it....
wait for it...
creepy, huh?
[I believe this is a crab spider...if I'm wrong, please show me the way]
CONNECTING TO: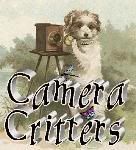 - - -
WEEKEND FUNNIES
A ventriloquist is telling Irish jokes in Davy Byrne's pub in Grafton Street, Dublin, when, O'Leary, an irate Irishman stands up shouting, 'You're making out we're all dumb and stupid. I oughtta punch you in the nose.' 'I'm sorry sir, I...........' 'Not you,' says O'Leary, 'I'm talking to that little fella on your knee.'
Kieran O'Connor always slept with his gun under his pillow. Hearing a noise at the foot of the bed, he shot off his big toe. 'Thank the Lord I wasn't sleeping at the other end of the bed,' Kieran said to his friends in Donegal's pub. 'I would have blown my head off.'
An Irishman, by the name of O'Malley proposed to his girl on St. Patrick's Day. He gave her a ring with a synthetic diamond. The excited young lass showed it to her father, a jeweller. He took one look at it and saw it wasn't real. The young lass on learning it wasn't real returned to her future husband. She protested vehemently about his cheapness. 'It was in honour of St. Patrick's Day,' he smiled. 'I gave you a sham rock.'
An Irishman had been drinking at a pub all night. The bartender finally said that the bar is closing. So the Irishman stood up to leave and fell flat on his face. He tried to stand one more time; same result. He figured he'll crawl outside and get some fresh air and maybe that will sober him up. Once outside he stood up and fell flat on his face. So he decided to crawl the 4 blocks to his home. When he arrived at the door he stood up and again fell flat on his face. He crawled through the door and into his bedroom. When he reached his bed he tried one more time to stand up. This time he managed to pull himself upright, but he quickly fell right into bed and is sound asleep as soon as his head hit the pillow. He was awakened the next morning to his wife standing over him, shouting, "So, you've been out drinking again!!" "What makes you say that?" he asked, putting on an innocent look. "The pub called. You left your wheelchair there again."
HAPPY ST. PATRICK'S DAY.