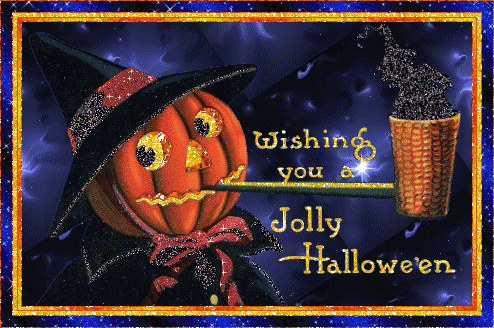 A traditional Scottish Prayer---
From ghoulies and ghosties
And long-leggedy beasties
And things that go bump in the night,
Good Lord, deliver us!
- - -
An interesting article I read about the infamous words "Things that Go Bump in the Night"....common terms that are often used this time of year; like hobgoblin, ghosts, poltergeists, boogeyman....etc. etc. etc. it's found here ---
WORLD WIDE WORDS
PS ---
don't forget to turn your clocks back an hour tonight!! We go off daylight savings time, Sunday.......YAY!!!!!
ADDED: 8:00 A.M.
---ACK! It's 45 degrees [Fahrenheit] here! That's like 30 degrees and frosty if we lived in Colorado instead of being acclimated to normal 70 degree temps! LOL ---Bring out the coats.
POSTED: Halloween
4:10 A.M.
Greeting from Glitter Graphics