PLEASE NOTE:
About a month ago, after I posted about Jeff Dunham and his ventriloquist show we attended, I mentioned that his holiday special [of which we got a 'sneak preview' at his Corpus Christi Performance in October] would be aired on cable's Comedy Central....remember? Well, some of you wanted to be reminded about it. Tonight it is on TV - his new holiday special. It's On Comedy Central. 8PM Central Time [USA]. It's hilarious. Of course there will be the same repeated throughout the rest of the month...check the TVGuide clip I've posted here...it can be enlarged.
Play along with your subconscious; Sunday's Word Association.
Join here.
I say ... and you think ... ?
1. Please stop :: popping your gum!
2. Move over :: ...and STOP snoring!!
3. Sweet as :: candy
4. Bet :: wager
5. Mad about :: you
6. It's over :: Roy Orbison [this dates me!]
LINK
7. Intend to :: get it done
8. Blame :: it on yourself
9. Jefferson :: Thomas ---President
10. Heartless :: callous
~...end Mutterings
[COMMENT HERE if you'd like to skip the rest of Sunday's post]
<><><>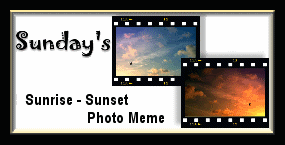 JOIN HERE
show the beauty of sunrise or sunset
This was taken this week, just before a huge storm moved in and left us drenched in rainfall!
~...end Sunrise Sunset Meme
[COMMENT HERE if you'd like to skip the rest of Sunday's post]
<><><>
Oftentimes I'm wondering what happened to a certain someone. Either a long lost friend or a classmate, or maybe a celebrity. Do you remember the program of 'our' youth, Leave it to Beaver? I thought Tony Dow was gorgeous when I was a kid! Yet, his whiny voice tho...so, not man enough for me. Even back then! rofl
I read a little excerpt from the internet email account after I closed my emails, and it had the two names "Tony Dow" in the line...I was immediately curious and clicked:
In Yah** News: In this image released by Blair Hayes, a bronze abstract sculpture of a figure of a woman holding a shield created by actor Tony Dow, titled, 'Unarmed Warrior,' is shown. Dow, best known for his role as Wally Cleaver, in the '50s TV series 'Leave It to Beaver,' will have one of his abstract sculptures on display at the Louvre from Dec. 11 to Dec. 14. I really kinda like this piece of abstract! It shows a lot of interest and to me, some vivid imagination. Love the title he chose also!

- - -

Anthony "Tony" Lee Dow (born April 13, 1945 in Hollywood, California), is an American film producer, director, sculptor, and a TV child actor of the 1950s and 1960s. Dow is best known for his role in the television sitcom Leave it to Beaver, which ran in primetime from 1957 to 1963 and in which he played Wallace "Wally" Cleaver, the older son of June and Ward Cleaver (Barbara Billingsley and Hugh Beaumont), and the brother of Theodore "Beaver" Cleaver (Jerry Mathers).
<><><>
If the Obama family doesn't want him ---I'll be glad to accept the 'gift' from Peru!!
READ MORE...
<><><>
Mary at
Mary's Writing Nook
sent me these three awards through the email. I had forgotten to post them, and thankfully she reminded me! I don't know how I missed them, but I did. Truly a Senior Moment on my part. None-the-less,
I do appreciate the accolades.
You're a terrific lady and good friend, Mary. I apologize for not getting them up sooner than today. Thank you kindly for your generosity and thinking of me!!
- - -
Then to end the blog for Sunday today, I'd like to present this award to
Lady Katherine
. I think it speaks for itself...Katherine, you rock!!! To pick up and save the award, just click on it and it should open, enlarged, then you can save it it you would like!