...join us over at
Kelli's
"There is no place like home"!!
- - -
This is my mother's. Dated 1927. [If she were alive she'd be 97 in 2008]
It's her classmates' autographs.
It's really fun to sit and read these sometimes, high school kids were the
same back 80 years ago!!! They were the same when I was a teenager,
and I'm pretty sure that kids today can be similar in actions.
It's written:
Dear Friend -
"Ashes to Ashes
Dust to Dust
If it wasn't for men
Girls lips would rust"
and signed: Gerald Willis
circa: January 6, 1927
<><><>
Since I bowed out of Friday Feast for personal preference, I'm starting a new thing. It's going to be called "Friday's Fixin's" and it'll be anything from a recipe to a household hint that I've done in the past. My very first one will be a hint in the baking department. Of course some of you probably do this already, but I still want to share this little item: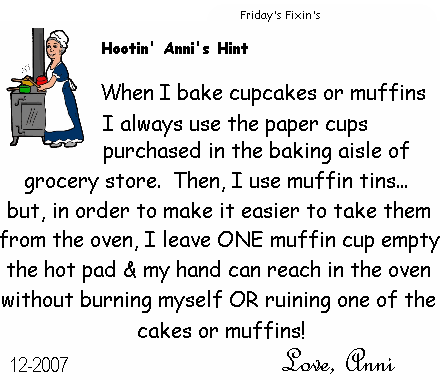 - - -
Like this:
- - -
<><><>
I wanted to share with you this little known fact: [joke]
Not long ago and far away, Santa was getting ready for his annual trip...but there were problems everywhere. Four of his elves were sick, and the trainee elves did not produce the toys as fast as the regular ones so Santa was beginning to feel the pressure of being behind schedule. Then Mrs. Claus told Santa that her mom was coming to visit. This stressed Santa even more. When he went to harness the reindeer, he found that three of them were about to give birth and two had jumped the fence and were out, heaven knows where. More Stress. Then when he began to load the sleigh, one of the boards cracked and the toy bag fell to the ground and scattered the toys. So, frustrated, Santa went into the house for a cup of coffee and a shot of whiskey. When he went to the cupboard, he found the elves had hidden the liquor and there was nothing to drink. In his frustration, he dropped the coffee pot and it broke into hundreds of little pieces all over the he kitchen floor. He went to get the broom and found that mice had eaten the straw it was made from. Just then the doorbell rang and Santa cussed on his way to the door. He opened the door and there was a little angel with a great big Christmas tree. The angel said: "Where would you like to put this tree Santa?"
And that my friends, is how the little angel came to be on top of the Christmas tree.
<><><>
Here is the most adorable Meow-w-y Christmas Card around!! Drop by...if you have speakers...turn up the volume. It's all by P J's furbabies.
CLICK HERE!
Her blog is linked from the card "No Deep Thoughts"
Stop by and say hi to her and her kitties.
They'll all have a purrfect holiday 'cause you said gave them a 'howdy'!!!!
<><><>
Go figure!
Most all year the new movies that have been released to the theater were just not interesting enough for Bud and I to go view. Now, this week there are TWO being released on the same day?!!! Both of which we've been waiting to see?!! Why the same day? LOL
Just our luck.
Well, it'll be a coin toss to see which one we see first. But eventually I'm sure we'll see both at the theater.
It's been over a year since I read about Johnny Depp doing a musical. And that he actually does the vocal. Well now I say, this will be different. And the movie IS directed by Tim Burton. Those two in combination, Burton and Depp, always seem to turn out a pretty good show for us.
SWEENEY TODD
-
"It's an impossible assignment, really, carried off with more-than-respectable panache. "
"Captain Sparrow has gone to the 'dark side'."
THE BOOK OF SECRETS
"...track down a top secret tome passed down from president to president called the Book of Secrets."
"What's exciting about the 'National Treasure' movies is that you have to think to stay with it, and follow the clues."